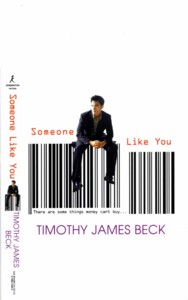 SOMEONE LIKE YOU
by Timothy James Beck
At the Mall of the Universe, you can get anything you want. Marc Jacobs shoes. Hugo Boss suits. Food. Drinks. Dry cleaning. A room at the five-star hotel or a lane at the bowling alley. Of course, some things are harder to come by. Just ask…
Vienna. She's one beautiful sister who's not going to be dependent on any man ever again, thanks to her cheating, should-be-dead ex. When she's not selling overpriced mascara to rich snobs, Vienna's checking out the scenery. Not that she wants another man. Much. Good thing she can tell it all to…
Davii. The top hairdresser at CosmicTology is fast with a wickedly funny quip and with his shears. Nobody puts one over on Davii. But what he really craves is a nice guy to come home to. A guy who makes him want to be a better person. A guy who looks an awful lot like…
Derek. He never planned to become a kept man, but it's hard to give up Belgian waffles delivered by room service. But no more. It's time for New Derek—new life, new friends, new job. And who better to help him take those baby steps toward independence than…
Christian. Cool and savvy, he's cornered the market on charm. His sales skills have won him a fawning clientele. There's nothing he can't do, no point he can't score, no woman he can't woo. But there's a first time for everything.
Meeting for coffee, dishing over drinks, dealing with heinous bosses, scheming backstabbers, clueless customers, and the occasional object of desire, four new friends are about to discover the joys of shopping for love in a place where what you need most might just be where you least expect to find it.
Timothy James Beck is represented by Alison J. Picard, Literary Agent. email: Ajpicard@aol.com
home
Snail Mail Timothy James Beck at P.O. Box 924104, Houston, TX. 77292.
If you'd like your TJB novels signed, send them to this address with $3.00 shipping and handling.

Send email to: info@timothyjamesbeck.com All e-mail will receive a reply. If you do not receive a reply, please check your mail server's spam folders or adjust your filters or address book to ensure that mail from info@timothyjamesbeck.com is allowed.